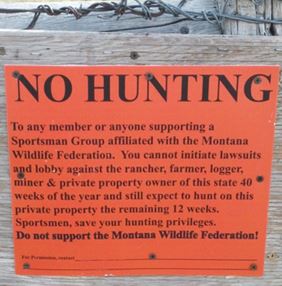 What kind of sportsmen group opposes the right to hunt and fish?
"Green Decoys," that's who.
The Montana legislature is considering adding a formal right to hunt, fish, and trap measure to the 2024 ballot.
Yet bizarrely, some groups that would appear to be pro-sportsmen are opposing this right to hunt measure. They are:
Montana Sportsmen Alliance
Trout Unlimited
Montana Wildlife Federation
Helena Hunters and Anglers
Montana has been ground zero for camouflaged activists in recent years. Millions of dollars from radical, out-of-state activists have been quietly funding groups in Montana. These groups may outwardly appear to be pro-sportsmen, but they are really serving an out-of-state environmentalist agenda.
For example, the Montana Wildlife Federation has received millions from the Wyss Foundation, funded by Swiss billionaire environmentalist Hansjorg Wyss. The Wyss Foundation has also funded radical environmental groups including the Sierra Club, Greenpeace, Defenders of Wildlife, and the Natural Resources Defense Council.
The game is this: Environmentalists want to lock up public lands in Montana. And they're funding local groups to carry their water.
So who is opposing the right-to-hunt-and-fish bill? And why?
A representative of the Montana Sportsmen Alliance said this when testifying against the bill: "I personally worry as a 20-year volunteer hunter ed instructor and our leadership group worries that this bill by enshrining hunting as a constitutional right will legitimize inappropriate or illegal hunting activity."
This is illogical. Would he also argue that the Second Amendment legitimizes gun crime?
The Montana Sportsmen Alliance rep also referred to hunting as a "privilege," claiming that this classification is an official state policy. That would actually justify the need to enshrine hunting as a right in the state constitution.
Meanwhile, a rep for the Montana Wildlife Federation claimed of the right to hunt bill, "It creates a lot of unintended consequences." That's a scare tactic.
With Montana having a citizen ballot box, sportsmen should be worried about out-of-state activists pushing deceptive laws that restrict hunting, fishing, and trapping. That's one reason proponents want to clearly establish a right to hunt in the state constitution. And that's one reason "Green Decoys" and their allies want the bill to go down.
What you don't know about these groups may surprise you.
Read more about the Montana Sportsmen Alliance here.
Read more about the Montana Wildlife Federation here.
Read more about Trout Unlimited here.
And if you live in Montana and support the right to hunt, consider contacting your representatives.