Funders
Anti-Development

Green Radicals
At a Glance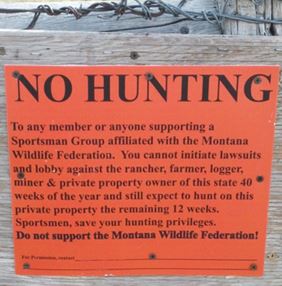 The Montana Wildlife Federation claims that it is a group founded by "hunters, anglers, landowners, and other conservationists." These days, however, it seems clear who's pulling the strings: Out-of-state radical environmentalists. MWF's advocacy seems in lockstep with leftwing environmental interests first, and others--including sportsmen and landowners--second. About MWF:
Drives a wedge between sportsmen and landowners
Parent organization supported reintroduction of wolves
Works with radical environmentalists
How do some landowners feel about MWF? Look no further than the sign to the right.
Funding
The Montana Wildlife Federation has taken over $1.2 million from the radical Wyss Foundation, a group founded by Swiss billionaire Hansjörg Wyss. The Wyss Foundation wants Western lands under federal government control and support Bill Clinton's efforts to declare millions of acres to be "national monuments." The Wyss Foundation also funds radical environmental groups including the Sierra Club, Greenpeace, Defenders of Wildlife, and the Natural Resources Defense Council.
Another Wyss foundation, the HJW Foundation, is a major donor to the liberal group Center for American Progress, where Wyss sits on the board. CAP was founded by Clinton and Obama administration insider John Podesta. Wyss himself is CEO of the medical-device company Synthes, Inc., which agreed to a $23.8 million plea deal in 2011 following the death of three patients during human experiments. A judge said the company's "pattern of deception is unparalleled."
Other MWF supporters include:
The Tides Foundation. Based in San Francisco, the Tides Foundation and its companion the Tides Center are essentially a "laundry" for liberal money.
The Cinnabar Foundation. Also funds a group called Orion: The Hunters' Institute.
Liz Claiborne & Art Ortenberg Foundation, which also has supported the Wilderness Society, Defenders of Wildlife, the Nature Conservancy, the Environmental Defense Fund, and the Montana Wilderness Association
Tordik Wildlife Foundation. Also funds the Nature Conservancy and the Izaak Walton League of America (another "Green Decoy").
Wilburforce Foundation. Also funds the liberal Backcountry Hunters and Anglers, another "Green Decoy" group that claims to advocate. Has also funded the League of Conservation Voters, the Tides Foundation, and the Center for Biological Diversity.
Henry P Kendall Foundation Trust. Also funds the liberal Union of Concerned Scientists, Sierra Club of Canada, Earth Island Institute, and the Wildlands Project (now the Wildlands Network).
Agenda
MWF is an affiliate of the National Wildlife Federation, which helped reintroduce gray wolves into the Yellowstone area. The National Wildlife Federation is a traditionally right-leaning group that has been co-opted by the fringe environmental movement.
NWF has aligned itself with groups like Greenpeace and the Sierra Club, and has taken millions from far-left Big Green foundations; its largest grant was $3 million from the Sea Change Foundation, which is funded by an offshore group, the Bermuda-based Klein Ltd. Overall, records indicate NWF has received around $100 million from left-wing foundations in recent years. NWF even kicked out its Pennsylvania chapter for not believing that humans are the sole cause of global warming.
The Montana Wildlife Federation, alongside the liberal activist-led and -funded Backcountry Hunters and Anglers, sponsors "Sportsmen for Montana" (not to be confused with the "Montana Sportsmen Alliance"—the two groups may as well be one).
MWF and Sportsmen for Montana advocate for access to public lands. But what does that actually mean? According to one property-rights group, MWF and the Public Land and Water Access Association are pushing for the trampling of private property rights, charging that MWF is "agitating for the confiscation of thousands of acres of private land every year through questionable political and judicial means" and that they "vilify targeted landowners in the media, the Legislature, and in courtrooms."
Additionally, a recent Montana Fish, Wildlife, and Parks department survey found that 96% of Montanans open their lands during hunting season. Ironically, MWF and its allies, while complaining about private property decisions, have actually backed road closures on public lands run by federal government agencies. MWF has also supported President Clinton's use of executive fiat to designate millions of acres as "national monuments."
MWF also vehemently opposes transferring control of federal lands to Montana. And true to its funding from environmentalists, MWF is just fine with renewable energy projects on public lands—even though wind and solar take hundreds of times more land than a natural gas pad. (MWF and NWF sued—and lost—in 2008 to stop the issuance of natural gas permits in eastern Montana.)
In another move against property rights, MWF was a force behind I-143, a 2000 ballot measure narrowly approved by voters. The initiative banned new game farms and prohibited high-fence hunting on private ranches—without compensating the owners of such businesses who were negatively affected by the ban.
People
Dave Chadwick, Executive Director. Chadwick is formerly a legislative aide to liberal California Senator Dianne Feinstein and a get-out-the-vote coordinator for the Democratic Party of Denver. Chadwick is also a board member of the environmentalist lobby group Montana Conservation Voters.
Conrad "Duke" Williams III. A Louisiana lawyer who served as "regional director" for MWF. Williams is a Democratic activist who has donated to the Montana Hunters and Anglers PAC.
Affiliates
It is unclear how many members Montana Wildlife Federation has. However, the organization does list "affiliate" clubs—again, with unclear numbers of members, and it's unclear when these clubs joined or if they're still affiliated with MWF. But some affiliates demonstrate the nexus between environmental groups and Green Decoy "hunter and angler" groups:
Hellgate Hunters & Anglers, run by liberal activist and "Green Decoy" leader Land Tawney
Public Land and Water Access Association, which is a constant thorn in the side of property owners. PLWA president John Gibson helped pushed I-161, an initiative that took away outfitter-sponsored licenses, which paid a majority of the block management program.
Helena Hunters & Anglers, which has worked alongside the litigious green group Western Environmental Law Center
Anaconda Sportsmen's Club, which has teamed up on litigation with Montana Backcountry Hunters & Anglers, a Green Decoy group. Anaconda Sportsmen has sued over the FWP Commission's decision to allow landowners to kill elk that come in contact with livestock during the calving season when the elk can spread brucellosis to the livestock.
Support for Reintroduction of Wolves
MWF is a state affiliate of the National Wildlife Federation. The NWF supported reintroduction of wolves into Montana, Wyoming, and Idaho. NWF called itself a "leader in that effort" to reintroduce wolves, and this effort has been a negative for hunters (and ranchers).
Environmental Allies
MWF has been very active in the Montana Legislature, and unsurprisingly its lobbying has a partisan bent. In a recent session, 46 of the 47 bills MWF opposed were sponsored by Republicans. These bills included a swath of pro-sportsmen proposals, including funding for the block management program, revising bison management, and allowing disabled hunters to use crossbows.
Meanwhile, MWF only supported 13 bills. In its obstructionism, MWF ca be found alongside groups such as Defenders of Wildlife, Wolves of the Rockies, Montana Audubon Society, Wildlife Land Trust, and the Sierra Club. These should be as no surprise, given that MWF executive director David Chadwick is on the board of Montana Conservation Voters, an environmentalist lobbying group.
Does that sound like a group that ultimately pro-hunter and angler?
Supports Selling Public Land?
The Green Decoys have created a political issue out of proposals to move some Western land from federal control to state control, arguing that this will result in the selling off of public (state) land to private entities. Yet Nick Gevock, MWF's conservation director, gave puzzling testimony when pressed on this issue. When asked by a state legislator if the federal government should be allowed to sell land to the highest bidder, he replied yes. When asked if the state should be allowed to sell public land, he replied no–before reversing himself and saying yes. (Listen here.) So MWF is in favor of selling off public lands?
Address
5530 North Montana Avenue, Helena, MT 59602
Personnel
Dave Chadwick, Executive Director Conrad "Duke" Williams III, Regional Director